Welcome! Please enjoy exploring my shop where you will discover one-of-a-kind mixed media art created for you.

About each product:
Each art piece is handcrafted for you to enjoy! I take pride in creating things that are unique and delightful, ready to be cherished by you. I love giving my time to every piece, putting together the perfect whimsical addition to your space. I hope you enjoy them as much as I have!
 Fiber Arts: I crochet these beautiful Mandala/Dream Catchers using different types of textured yarns, fibers, lace, string and other whimsical fuzz. They are crocheted on 6″ or 8″ or smaller metal rings. Hangings from the rings could be either twisted, curled, braided or felted balls and glass beads.
Tarot Card Motifs: These lovely tarot cards are from Nicoletta Ceccoli.  They are placed on a glass frame where they are surrounded by bits of lavender, rose, small stones, glass chunks, glitter and other spiritual and earthy embellishments. I use a clear dimensional glaze to protect the motif.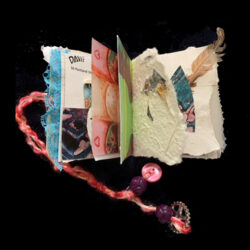 Junk Journals: Most of my journals are hand-sewn by me using all types of papers like maps, watercolors I have painted on, rice paper, and decorative papers with added trim, lace, buttons, fabric, mesh, assorted beads and so much more.  Other journals are small notebooks that I have embellished on the cover and some are painted inside. You can add your own fun stuff to each journal or write or paint in them.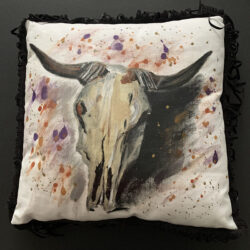 Pillows:   All my pillows are machine or hand-sewn by me. I paint each one with acrylic paint on duct fabric which is like canvas.  Some have trim, others have either a plain back or a fabric pattern back. These pillows are made to be decorative.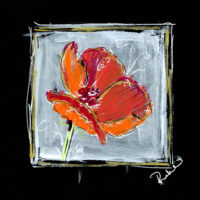 Greeting Cards:  I hand paint every card using acrylic paint.  They come 5 to a package, envelopes are included. They are protected in a plastic box along with a white gel pen. they come in themes and each card is a different painting.
Bookmarks: Most of my bookmarks are watercolor or acrylic paint on both sides. I embellish one side with small beads and add fun fabrics to the top.